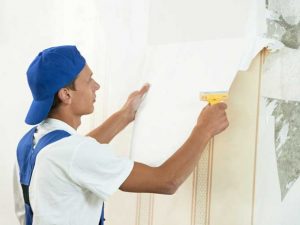 When you want to paint or decorate a room again, it is a good idea to take the old wallpaper off first. Removing wallpaper is a job that is easy to do yourself but requires some time. Which methods you can apply depending on the wallpaper type you can read here.
REMOVE WALLPAPER PAPER – THE PREPARATION
To remove wallpaper, you will need a lot of water. That is why it is important to shield the floor well to prevent water damage. Also try to switch off the fuses from the electricity in the room where the wallpaper has to be removed. The furniture should be moved to the center of the room where it can be covered.
POSSIBILITY 1: CHANGE WALLPAPER
The easiest and oldest way to remove wallpaper is to loosen the paper. The advantage of using wallpaper is that no special machines are needed. The only thing you need is a bucket with water and a sponge, big brush or rag.
Use preferably warm water, this will detach the wallpaper
greatly accelerate paper. You can also use a special plasticizer. This is available in every do-it-yourself business and must be added to the water.
Since you usually work above your head, you will undoubtedly suffer from water that seeps down through your arm. To prevent this, you can stretch a towel or large rag around your arm. The water will now be absorbed instead of making you completely wet. Always try to work from top to bottom when humidifying.
POSSIBILITY 2: STEAMING WALLPAPER
By means of a special steam device, your wallpaper can also be steamed. You can rent or buy this machine in almost any do-it-yourself business. After you have been with the steamer over the walls you can easily remove the wallpaper with a spatula.
REMOVE VINYL WALLPAPER
Due to the closed and waterproof structure of vinyl wallpaper, it is not possible to soak this type of wallpaper. By means of a puncture roller, you can perforate fine holes in the vinyl wallpaper so that the water can get to the underlying adhesive.
REMOVE FIBERGLASS WALLPAPER
Removing fiberglass wallpaper is even more difficult than removing vinyl wallpaper. The glass fiber glue used is very strong and is firmly attached to the plaster. With the subtraction of this type of wallpaper, the risk of damage is also very high. In the case of fiberglass wallpaper, the choice is often made to fill the surface and then to repaint it again.
To get your wallpaper removed by a professional in cities of Charlotte, Raleigh, Greensboro, Wilmington and Fayetteville NC, fill in the no-obligation form to get a free quotation.

Company Details

Service Type
Provider Name
Ace Painting Pros
,
10926-A David Taylor Drive Suite 120
,
Charlotte
,
North Carolina
-
28262
,
Telephone No.(704) 937 1398
Area
Description
ACE Painting Pros are a service provider that has tied up with some of the best and skilled painters in Charlotte city. We are ready to serve you in Charlotte.