If it's time to get a fresh coat of paint on the walls of your home then it's time to find  good house painting contractor in Charlotte NC. Don't trust the exterior or the interior walls of your house to anyone other than an experienced professional or team of professionals. It is too important of a job to leave to amateurs.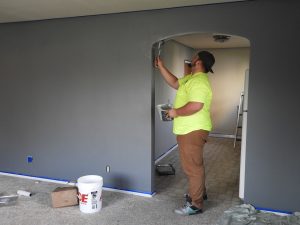 An  house painting contractor is worth their weight in gold when it comes to beautifying and protecting your largest investment. They will know exactly what to do to make sure you get your money's worth and your house will be protected for many years to come. There are so many different paints for interiors and exteriors that only a true professional will know from years of experience what is perfect for your house and your particular situation. Take their advice because they know what is best for your home.
Consider this interchange the way you would a talk with your lawyer or accountant, you want to develop a relationship based on trust. You have to trust them to carry out your wishes and they have to trust you to tell them what you want to the best of your ability.
The professional charlotte painting contractor will want to earn your business so you will call them in the future.
With that said they should always offer a guarantee on their workmanship. That is the first sign of a true professional and says a lot about someone. That means they are confident in their work and take pride in what they do. They will know what paints and products to use, how to apply those products and they are willing to back that knowledge and skill up with a guarantee. If an exterior house painting contractor doesn't offer a guarantee then you should not do business with them.
Choosing your  house painting contractor may take a little time but it is time well spent. This is to be a long term relationship and it will no doubt be a valued one. One thing to also remember is that when you forge a relationship with a professional painting contractor you can call on them when it is time to sell to give you advice on how best to fix your house up to look good to prospective buyers. There are little tricks they can apprise you of to save money but still put the best face possible on your house.
We Assure you that your search for a professional painting contractor in Charlotte NC ends here, do get in touch with us to see how much more we can do for your house at a very affordable price..

Painting Companies Charlotte NC