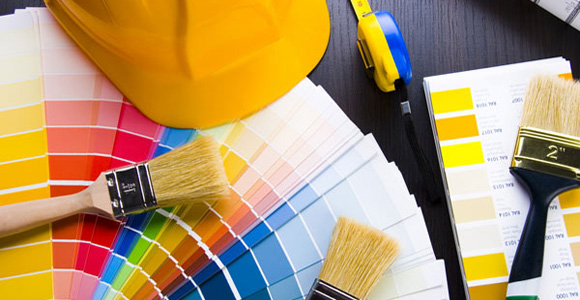 As a resident of Charlotte NC, you might be thinking that it is very easy to find a perfect painting contractor for your home. But wait, it's not really too easy. Not anyone holding a brush can be a good painter. We, ACE Painting Pros are a service provider that has tied up with some of the best and skilled house painters in Charlotte city.
There are many other service providers that claim to be the best in supplying skilled painting contractors but actually, not everyone works for your interest. We at Ace Painting Pro keep our profit at last and consider your requirement and budget at first priority. We have been serving thousands of homes and offices in Charlotte for more than a decade.
Ace Painting Pro is a team of highly skilled, courteous, professional and affordable painting contractors. We feel pride in choosing our painting partners with judging them at various levels. Along with keeping the painting skills at priority, we also make sure that you are supplied with the high-quality paints at affordable rates.
Address –
10926 David Taylor Drive
Suite 120
Charlotte, North Carolina 28262
>> Our contractors are fully insured
>> We provide the guarantee for our work
>> You pay after your job done
>> Get detailed quotation
>> Award-winning contractors
>> Dedicated & reliable team
>> Proven & innovative techniques
>> We respect your property
>> High-quality painting material
>> Affordable job rates
Ace Painting Pro ensures that you get your job done in as less time as possible. We provide our services for all types of painting needs, whether its residential or commercial, interior or exterior, everything is done efficiently. Our painting contractors also offer you color consultation to help you out in choosing the right color for your place.
So, if you are requiring a painter for your place, just fill up the no-obligation form to get a free quotation for your job. We are always ready to serve you out in Charlotte city.
Expert Tip –
DIY tip – If you are coloring your rooms normally then first check your room's square footage. It is recommended 1 gallon of paint for 400 square feet. Textured, unprimed or rough surface will consume more paint.
Client Testimonials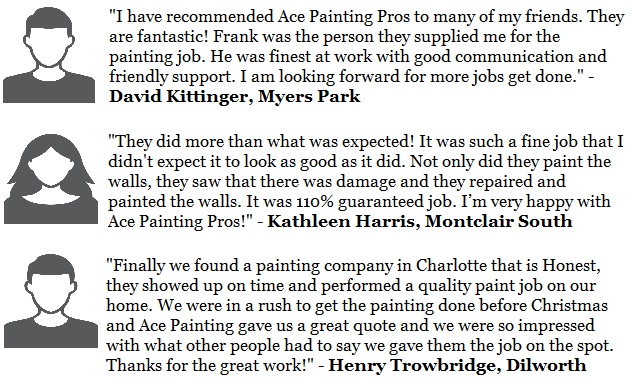 Mecklenburg County Neighborhood, Suburbs & Towns we serve –
Neighborhood – Ballantyne West, Mountainbrook, Providence Crossing, Providence Plantation, Providence Estates East, Sardis Forest, Eastover, Elizabeth, York Road, Chantilly, Commonwealth, Provincetowne, Rain Tree, Brookhill, Park Crossing, Marshbrooke, Ashbrrok/Clawson Village, Dilworth, Olde Providence North, Starmount Forest, Echo hills, Steele Creek, Colonial Village, Mallard Creek, Oxford Hunt, Montibello, Starmount, Highway 51, Cherry, Ballantyne East, Piper Glen Estates, Yorkshire, Highland Creek, Johnston Road, Wessex Square, Quail Hollow, Myers Park, Prosperity Church Road, Hembstead, Touchstone Village, First Ward, Davis Lake, Idlewild South, Stonehaven, Sharon Woods, Sterling, Wedgewood, Whiteoak, Coliseum Drive, Olde Providence South
Suburbs – Davidson, Cornelius, Matthews, Huntersville, Mint Hill, Pineville, Deweese Township, Providence Township, Lemley Township, Huntersville Township, Morning Star Township, Steele Creek Township, Pineville Township, Mallard Creek Township, Clear Creek Township, Long Creek Township, Crab Orchard Township, Paw Creek Township, Berryhill Township
Towns – Davidson, Cornelius, Matthews, Huntersville, Mint Hill, Pineville, Deweese Township, Providence Township, Lemley Township, Huntersville Township, Morning Star Township, Steele Creek Township, Pineville Township, Mallard Creek Township, Clear Creek Township, Long Creek Township, Crab Orchard Township, Paw Creek Township, Berryhill Township